Discussion Starter
·
#1
·
well some of you know that i was drawn for that late muzzle loader hunt in the mashel unit. It went fairly well as i was able to fill my tag the first day. YellowFever and Emily were my accomplices. The day started at a small piece of private land, unfortunatly the elk were hangin on the opposite side of the road and we did not have permission to hunt that side. So we headed to another plot of land we were given permisssion to hunt. we were driving up to the road where we planned on parking and walkin and there were all the elk! 30+ were scattering. i was almost presented with a shot right off the bat, but the elk needed to take one more step for me to have a good shot but she never did. so we parked the truck and headed up this little cat road. We could see the elk up in the timber about 150 yards, but we didnt wanna spook em further, so we stayed down the road. we came to a selective cut area and saw more elk at about 200, but kept on hoping to find one closer. We never were able find any closer, so we picked a group of elk and i put the sneak on em. i got within a personally estimated 100 yards, waited for the cow of my choice to walk through, and she did. Boom a poof of smoke, and she just stood there, looked around, and kept walking.
i waited a few minutes. then walked up there to check. no blood, no hair no nothing. i fallowed the tracks around the hill and there they all were agian. boom. and i saw the hit. they all ran up the hill and i waited around 10 minutes then walked up to check the shot. i found some blood. just a little and fallowed it. this continued for about 1 and a half miles. up through the nastiest brush and steepest terrain she could find. after alot of work, and me being dog tired 2 elk stood infront of me. i knew it was the ones i had been tracking as there had been two sets of tracks with the blood. i took a head shot at one, as it was all that was available. that one took off but the other remained standing, and wasnt in a real hurry to go anywhere. after about 2 minutes of farting around trying to reload (i was out of speedloaders) i pulled up, took a slow deep breath.
let her have it. she launched off the hill behind her and down towards the bottom. i gave her abotu 5 min. and took time to reload. i walked to the place she had been when i shot and there was blood and hair everywhere. looked down over the edge and there she was about 75 yards down. and finnaly she was done. it was the one i had originally shot and had been tracking, as it had a hole from a slug about an inch from the neck bone :x
i cleaned her and then headed back to find some help. as noone knew where i was. i found the group, took em to her, and then we got her all loaded up and headed back. it was a quarter it up, and take the backstraps show, and we were way to far in to get er out whole.
me and my first elk(i forgot to mention)
the original crew. my dad was also there, but someone has to take pictures.
she froze her butt off, but she wanted to be part of the experience (Emily)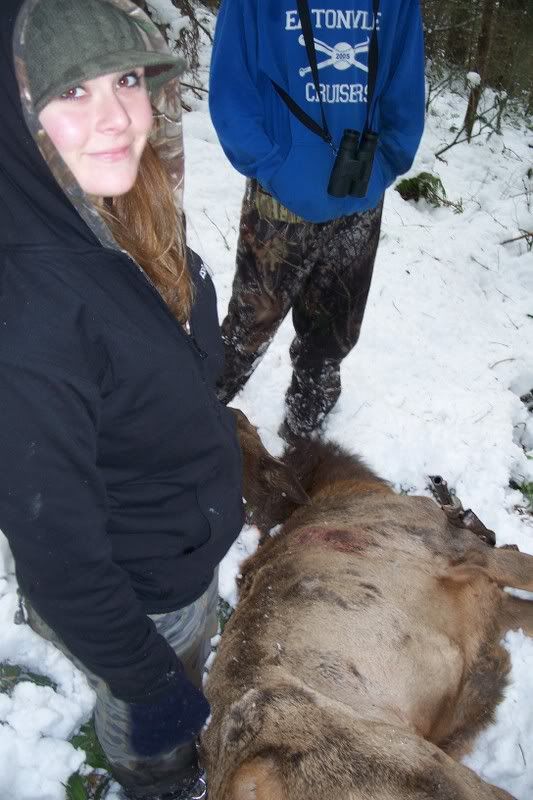 i got both of the hind quarters on my pack, it was a commedy show. i could walk fine, but standing was a different story