Discussion Starter
·
#1
·
20' 200hp Tiller Jet Sled WideBody (100"beam) Custom
Custom Welded Aluminum Dual Axle Trailer w/ Stainless Brakes

Dropbox link to folder containing detailed Word.doc & more photos:
https://www.dropbox.com/sh/h9opkkf295rdcfu/AAAuGhytPH49z1_S_N5-0hqQa?dl=0
The "detailed" document includes a large list of various options that may be sold separately or possibly packaged with the sled (High Speed Scotty Downriggers, Columbia Anchor Systems, Electronics, ProMotion & EZ Marine accessories, Watefowl Stuff, etc. etc. much I and still yet to list).
Link to detailed Word.doc for those without Dropbox options:
https://dl.dropboxusercontent.com/u/43344346/1-20-Jet-Sled Ad Text Worksheet.docx
Link to detailed Adobe.pdf for those without Dropbox options:
https://dl.dropboxusercontent.com/u/43344346/1-20-Jet-Sled Ad Text Worksheet.pdf
View additional pictures at the following link on PhotoBucket:
http://s215.photobucket.com/user/ChrisOBucket/library/For Sale/20 JetSled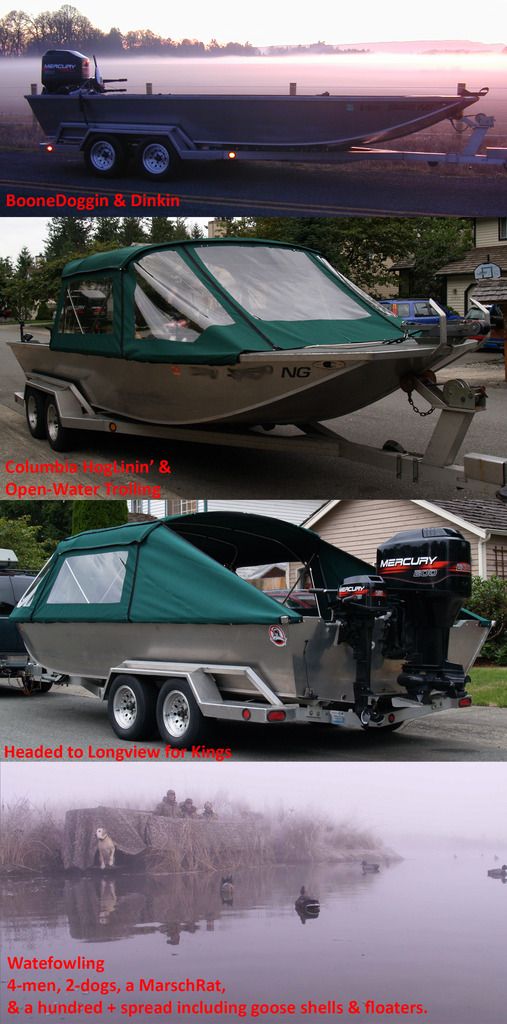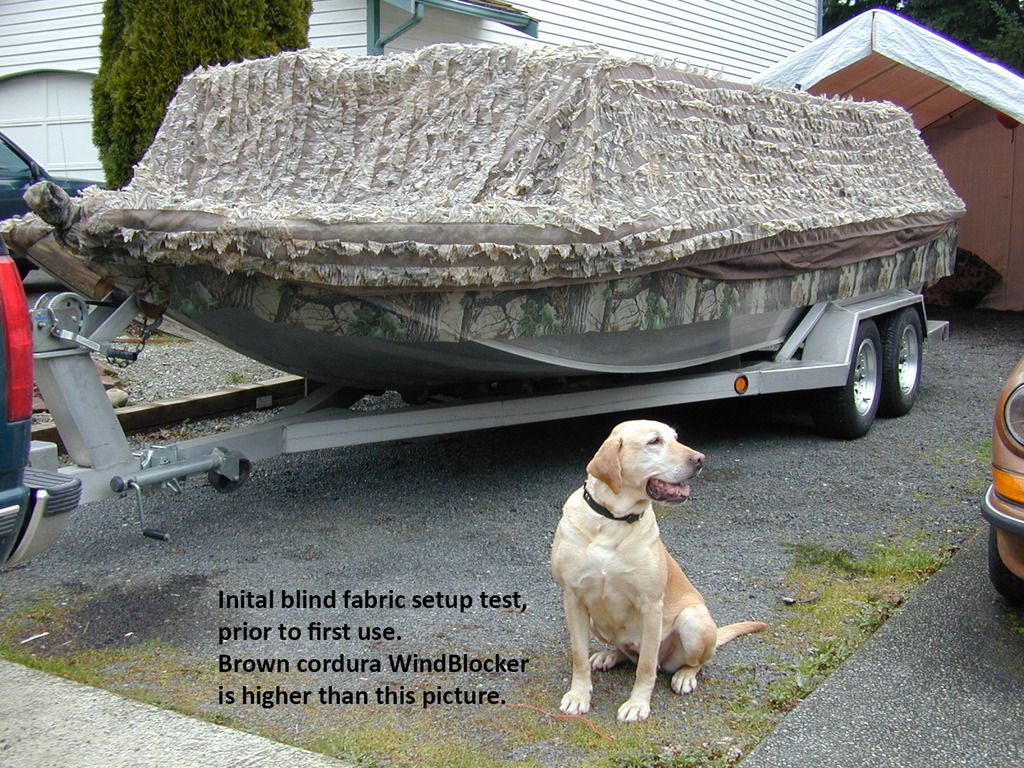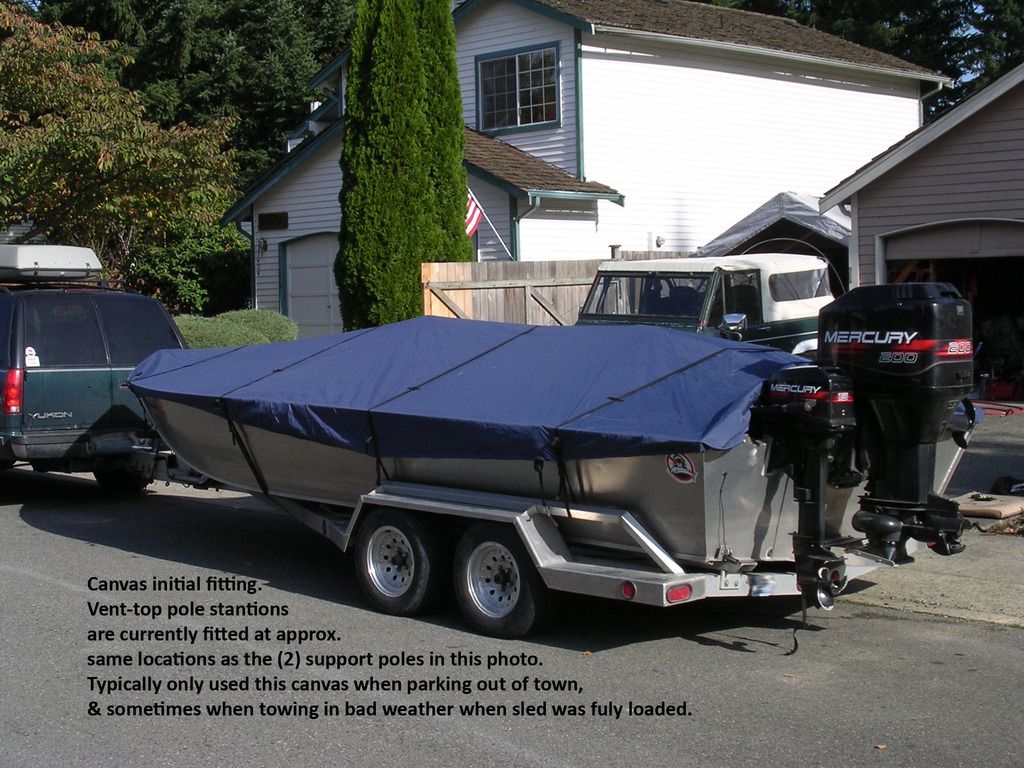 Price = $18,500
General Info:
Bow comes to a diamond-point, increasing interior size to overall length ratio.
Transom is same ht. as gunnels, with custom drops to ease access while waterfowling out of sled.
Sled tracks extremely well, without sliding through corners (a pretty unusual characteristic for a shallow draft sled).
Engine/Hull/Pump configuration does not cavitate on open water with wind-chop.
Mercury 200hp Tiller (200/140 Jet (w/ Remote Injection 3-gal Oil Tank)
Power Trim/Tilt on tiller & engine
Stainless Steel Impeller & Custom Intake Collection Grate & Tunnel Transom
Mercury 15hp Long Shaft (w/ Remote Injection Oil Tank)
Both motors run off main fuel tank (no auxiliary tank needed for kicker)
Engine internals (under-cowl) sprayed down with Mercury Corrosion Guard regularly
Pump lubed each trip
Trailer bearing lube flushed seasonally
Trailer Brake Rebuild (maybe 750-miles miles since)
Fuel System (always ran an additive to deal with potential Ethanol issues and/or storage)
Columbia River Fisherman's Top
Stainless tubing & fittings, HD clear windows front & tinted sides.
Top fully drains to outside of sled with snaps on outside lower of gunwale eliminating net & line snagging.
Top always fully dry before storage, with Tyvek separator panels installed to protect vinyl.
All top panels fit into a single matching sail-bag, includes YKK zippered storage sleeve for on water use.
Details:
Hand Rail Style Gunnels
Quad Rod Trays (14'9" x 10")
(6) Fixed Rod Mounts (rod storage above lower rod trays, store assembled-rigged rods)
Rear Tray (6' x 10")
Kicker Oil Injector w/Remote Tank
Main Oil Injector & reservoir on motor with 3-gal Aux. Tank
Open Deck Design 14'6" x 6'8"
Anchor Locker 33" x 2' x 12" (dual opposed lids w/pass-thru for chain)
Main Storage 7' x 2' x 17" (single hinged lid 51" x 24")
All Storage Bays Rain-Channeled to exterior
Anchor & Storage Box are fully rain-channeled/guttered
Large (removable) In-Floor Fish-Box (22" x 45" - multiple Springer sized)
Washdown System w/HD Pump & Quick Release for Hose Assembly
Running Lights
Bilge Pump
Battery mounting options at stern, or into custom welded aluminum trays in main storage (optional mounting)
(2) ProMotion Boat Pedestal Seats 3/4 Legged
(2) Tempress All Weather High Back Seats
(2) Seat Pads (Aluminum rod tray mounts - convert to mount Coleman Stove, etc.)
ProMotion Anchor Rest/Roller (Powder Coated)
Custom Fitted Boat Cover/Canvas with dual vented stanchion supports
11'6" Custom aluminum oars (elevated S/S oar-locks) for free-drifting where motors not allowed
6 degree bottom (dead rise) with a 3" x 24" Tunnel at stern
.190" (3/16") 5086 Bottom & Transom
.125" (1/8") Sides
5086 Aluminum Sheet:
5086 aluminium alloy - Wikipedia, the free encyclopedia
100" Beam
79" Bottom (beam at chine)
27" Ht. Sides
5/8" Marine Plywood Deck w/traction coating
14'6" Deck Length x 6'8" Deck Width
26 Gal. Welded Alum. Fuel Tank w/internal baffles (below deck forward location)
Front Drivers-Side External Fuel Filler (w/ water drain)
Fuel System Water-Separator Transom Mounted (functions for both main & kicker motors)
Tach & Fuel Gauge (mounted between rod trays w/ pull-switch controls for accessories)
12v Elect. System w/24v option for elect. kicker
Sled SubDeck Construction:
(7) 1" x 2" Box Stringers with 24" o.c. 2" x 2" Angle Aluminum Crossmembers
5/8" Marine Grade Plywd Deck with Traction Coating
Dual Axle Trailer:
(welded Aluminum square box construction)
4" x 4" Square Tube 6061-T6 Columbia Pacific
Front Roller System with Rear UHMW topped Alum Slides (sim. to the good old Alum Kofflers)
Structural Aluminum Side-Rails UHMW Covered makes side-current river-loading easy
2-Speed Hand Winch with 2" Flat Strap
Folding Tounge Jack w/Large Swivel Wheel
Brakes: 4-wheel Stainless Disk Brakes & Super Lube Dust Caps (Tie Down Engineering, Inc)
Axles: Torsion Arm & Spindles (Tie Down Engineering, Inc)
All Lighting Recessed
7-Way Trailer Connector (aka Pollock of Bargman plug)
Weights:
410 lb Motor
1,060 lb. Boat
990 lb. Trailer
2,460 lb. Gross (plus misc. kickers, fuel, batt, etc.)
I have been very pleased with this sled, fishing skinny rivers like the Wynoochee & Satsop, larger rivers like the Cowlitz & Columbia & out to buoy-10 trolling with high-speed downriggers, waterfowling the shallows of E.WA and the open expanses of the Columbia. The displacement of the hull makes it very stable and it floats balanced & high in the water with 4-6 aboard comfortably and safely. Waterfowl hunting out of this sled with a fully enclosed Avery popup blind is a dream, with ample room for 4+ hunters/shooters, a pair of Marsh-Rats & loads of decoys (and a dog or two with the customized dog-step-platform at the transom). The on-water picture of the sled with blind up, dog on platform was taken from one of my Marsch-Rats during a 4-man/2-dog hunt in E.WA. This sled platform is a real workhorse. It would make an excellent guide platform, or serious recreational sportsman's sled.